Being an active military member comes with many challenges, one of which is frequent relocation. Military members get the order to start fresh in another place every few years. If they are married or have children, their families move with them.
But if this is your first military move, you might wonder, "What is the process of moving my wife to my duty station?"
Another essential question military members might be asking is, "Will the military pay to move my spouse?" Military moves can be complicated, but knowing more about how the process works can make it less stressful for the entire military family.
Why Do Military Families Move?
Joining the military means being prepared to have your life uprooted every two to four years, and sometimes more frequently.
This move is called a permanent change of station or, more commonly, PCS. There are various reasons why military members get the orders to move.
Usually, a new rank will require additional education or training. Therefore, the military member must be moved to another base, where these resources are available.
Upon completing the training and reaching their goals, the military may choose to order another PCS so they can fill a vacancy in another place, given their newly gained skills.
While the frequent military family moving may seem strange or unnecessary to civilians, the military always has a reason to move their personnel across the country and overseas.
Apart from the practical and logistical reasons the military requires its members to relocate, it's also a matter of resilience. While often uncomfortable, the moves tend to foster adaptability and keep the military members more acquainted with change.
Learning to adjust more quickly to PCS moves is more likely to prepare active-duty members for temporary duty assignments.
Finally, the military may have reasons to order PCS moves for reasons they are not going to disclose and are related to national security.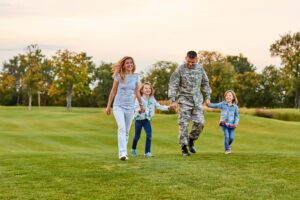 Will the Military Pay to Move My Spouse?
The good news is that military spouses moving is covered by the military, but there are some considerations to keep in mind. The military will reimburse the spouse relocation during the PCS move as long as the spouses live in the same home and are leaving from the same location.
If a military member's spouse lives in another city or state but wishes to come to the new PCS, they must finance it out of pocket.
It's also imperative to point out that if a military member got married before getting new PCS orders but hasn't filed the marriage certificate, their spouse's name won't be on the next PCS order.
Therefore, they'll need to pay for the trip themselves. These rules may seem unfair to newlyweds or military members with spouses not currently living with them, but the military has strict rules about PCS moves.
When Can My Wife Move on Base With Me?
This is another commonly asked question for new military members. While the military supports and encourages spouses to live together on the base, there are exceptions.
A military wife or husband cannot live on the base while their spouse is in basic training. The soldiers must live in army barracks, and their family members can choose to live nearby or far away. Either way, they will only be allowed to see the recruit on the family day and graduation.
During the advanced individual training or AIT, military members have more freedom, and in some instances, depending on the training duration, the spouses can join them on the base.
Once the military member gets their first duty station, their families can join them, with the exception of some overseas locations.
Types of PCS Moves
Regarding the budget and paying for the moves, it's imperative to know precisely about entitlements and duties. Once you receive PCS orders, planning and organizing the move can start.
This process entails making many decisions, and the first is whether to choose a household goods (HHG) or a personally procured move (PPM).
The HHG move is the best choice for those who don't really want to deal with the hassle of the move and are comfortable with leaving the entire job to the Department of Defense (DOD.)
The military is partnered with several moving companies that have undergone rigorous vetting and guarantee excellent results. These moving companies have the General Services Administration (GSA) approval to move military members across the country.
The PPM is another way to go, and it's the option most military families prefer. As the name implies, you are in charge of procuring the moving company and organizing everything regarding the move.
The military will reimburse up to 95% of what the HHG move would cost, and the military members are entitled to keep the difference. It's not uncommon for the PPM to result in savings, though that greatly depends on the circumstances.
The Best Ways to Prepare for Military Family Moving
If you've chosen a PPM, preparing well for what's ahead is imperative. No matter how many times a military member goes through a PPM, there's never a foolproof way to approach the move.
Staying flexible and anticipating anything is the best way to avoid too much stress. After receiving PCS orders, military families sometimes have weeks to prepare for the move, but sometimes they have to act more swiftly. Approaching the PPM without panic is crucial.
After establishing that rule, it's best to move on to the purge and declutter phase of moving. One of the benefits of relocating frequently is that you often closely examine your belongings and determine what you really need. It's the right time to sell, donate, or throw away items you don't want to bring to the new post.
The second but very important step is to make a budget. The military will reimburse the relocation expenses, but you still need to pay for any outstanding bills associated with the home you're currently living in.
Searching for a reliable moving company is probably one of the most significant elements in preparing for the military family moving. You can reach out to one of the GSA-approved companies but request a PPM.
On the other hand, you can conduct thorough research, consider your needs and the budget, and find the best moving company for your situation.
There are several important factors to consider when hiring a moving company specializing in military family moving.
Pricing
Military discounts
Truck sizes
Car shipping
Packing and unpacking
Debris removal
Storage space
Customer service
GPS tracking
State availability
Free quotes
Reputation
This list is not exhaustive, but it's an excellent start as you prepare for a military spouse moving.
Effects of Moving on Military Families
It's no secret that moving is stressful, whether you're a member of the military or a civilian. Indeed, there might be some exhilaration about the idea, too.
But for the most part, completely changing homes and surroundings every few years or less can be disorienting, especially for children.
The military member getting the PCS orders may experience the move differently, as they knew what they were signing up for when they enlisted. To a certain extent, military spouses know what they're getting into as well. However, they might also find losing connections they've made in a particular town or city difficult. The situation is even more complicated if the military spouse has a job they must abandon during the PCS move.
The effects of moving on military families can vary, but getting used to a new environment is always a challenge. Again, it's the children that feel these effects the most. The frequent moving leads to disruptions that can cause stress and mental health issues.
These are some of the problems that children of military members face.
Adjusting to the new home, school, neighborhood, weather, and routines.
Students doing sports may miss team tryouts and not get included in athletic programs.
Gaining acceptance in school is much more difficult when you're always the new kid.
Experiencing the loss of close relationships in a previous location.
Bear in mind that each person is unique, and children may experience specific problems which could be difficult for them to express.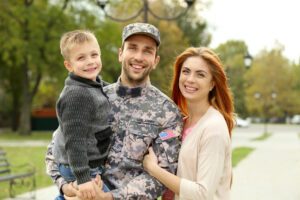 Military Spouse Moving and Employment
As a military spouse, moving to a new place can be scary for many different reasons. Losing a job they love can be a big part of it. Indeed, looking for another job in a brand new location can seem overwhelming. Choosing a job that allows them to work from home often seems like the best solution.
Still, that's not always possible, nor is it what everyone wants. The military is aware of this challenge and has implemented certain resources to help with the moving process.
The DOD's Spouse Education & Career Opportunities program is an excellent starting point. This program allows military spouses to seek specific education and licenses and learn about different career paths.
It's a phenomenal resource for finding a job as it offers more than 500 companies with employment partnerships with the military.
It's also very important to point out that in 2017, Congress ordered the DOD to reimburse personal license fees of up to $1,000 to military spouses.
You need to have the proof that you've already paid for the certificate and have a copy of signed PCS orders to get the reimbursement from the DOD.
FAQs
When to Start Planning for the PCS Move?
Whether you're planning an HHG or PPM, starting as early as possible is always the best policy. Even if you have years of experience with PCS moves, a lot can change quickly, so it's important to leave room for flexibility.
Are There Items You're Not Allowed to Bring During Military Family Moving?
You are allowed to bring most items from your household, but there are a few notable restrictions. Anything considered a hazardous material is not permitted.
That includes paint, gasoline, batteries, and cleaning supplies. Even if you're taking your lawn mower along, you'll need to remove the gasoline from it before it can go in the truck.
Another relevant detail to keep in mind is that the moving company can ship any firearm unless they're on the excluded list. However, they are not permitted to transport ammunition, as they are categorized the same as gasoline and batteries.
Is Military Spouse Moving and Military Family Moving Expensive?
The thousands of PCS moves cost the military a fortune every year, whether they pay the moving partners or reimburse military members for PPMs.
The actual price tag varies depending on the company, the size of the household, and which services the movers provide. If it's a local PCS, the price can range between $600 and 2,000, while a long-distance move could cost around $1,300 to $10,000.
What Is an OCONUS Move?
Most PCS moves are within the contiguous U.S. and are referred to as CONUS. However, some military members are relocated outside the contiguous U.S., including Hawaii, Alaska, and U.S. territories.
This type of PCS is called OCONUS. If you're wondering, "Will the military pay to move my spouse OCONUS?" the answer is yes, it will.
Does the Military Pay for Pet Transport?
Unfortunately, the military does not pay for moving your pets to a new PCS. Depending on the situation, the cost of relocating your pets can add up, so it's essential to do your research.
Because animal shelters around military bases have been reporting increased rates of animal surrender, the military has taken steps to address this issue.
They've partnered with the Society for the Prevention of Cruelty to Animals International (SPCA) and started the operation Military Pets. This program provides financial aid to families struggling to fund pet relocations.
Unless it's an OCONUS move, the military doesn't pay for shipping your vehicle. And with the OCONUS move, the shipping is covered for only one car.
However, some exceptions may apply., Such as if you're unable to make the drive due to medical reasons, you can submit a special request.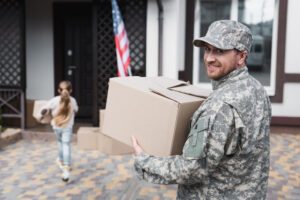 Reducing the Stress of Military Family Moving
Military families face many obstacles but can also thrive in numerous ways. Married military members can have their spouses move with them to a new location, and the military will reimburse their expenses as long as they're already living together.
The military also provides many valuable resources for handling the new environment, and pursuing education or employment.
When it comes to the children, preparing them well for the changes will ease the blows caused by separating from friends and familiar surroundings.
A PCS move is less stressful when you have reliable movers doing the heavy lifting. Reach out to Military Movers to get a free quote today.
Keywords: will the military pay to move my spouse; moving my wife to my duty station; military family moving; when can my wife move on base with me; why do military families move; military spouse moving; effects of moving on military families.