The average military family moves once every two to three years. Depending on the nature of the job and the military position, other service members are required to relocate even more frequently. Moving in the military can be very stressful and time-consuming, no matter how many times a military family goes through it. Fortunately, active members of the military, as well as veterans, are entitled to different types of financial aid, discounts, and transportation services provided by the military and various related agencies.
This article will cover everything you need to know about moving in the army and the military. We'll discuss everything from PCS orders and military relocation services to various types of military moving help that you can use to manage the move easier.
What Is PCS Moving?
Any active-duty military member can expect to move every two to three years. Service members are typically required to relocate when they receive a PCS order. PCS stands for Permanent Change of Station and is viewed as a long-term assignment. When military members get a PCS travel order, they can be transferred to a CONUS or an OCONUS base.
CONUS refers to the continental U.S., including 48 states and the District of Columbia. In contrast, OCONUS means outside the contiguous U.S., like Hawaii, Alaska, and other countries that are a part of the United States territory. Moving to an OCONUS location is even more complicated since you'll be moving outside the contiguous U.S. This type of PCS moving involves packing all your belongings in shipping containers, which are then transported via large container ships.
Military members and their families can also relocate internationally, in which case, the entire family would need passports and visas. There are U.S. military bases worldwide, including Iraq, Germany, Japan, Italy, South Korea, the United Kingdom, and more.
You can request a PCS order, or you can receive it. PCS moving can happen to anyone in the military, including members of the Army, Navy, Air Force, Marines, Coast Guard, and National Guard. PCS assignments can last two to four years until the military member receives a new relocation order.
If you want to request a PCS order, contact your servicing Defense Logistics Agency (DLA) Human Resources office.
What to Do When You Get a PCS Order?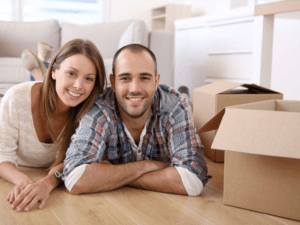 When you receive a PCS order, there are many things you need to do as soon as possible. Unfortunately, many military members need to start packing when they get their relocation order. Since moving in the military typically happens with very little notice, service members don't have much time to plan. Sometimes, they only have a few weeks to report to their new base.
Making an appointment with your base transportation office and current installation's finance office should be one of the first things you should do after receiving a PCS order. Be prepared for a lot of paperwork.
The next step is to schedule everything. Depending on the type of relocation process you choose (which we'll get to later), you'll be required to hire a moving company or let the government find you an approved military mover. You'll have to choose a date and time to schedule the move, and you'll have to specify your shipping weight and how many family members are traveling with you.
Active service members usually receive accompanied PSC orders, meaning the entire family is required to relocate. In rare cases, a military member can receive an unaccompanied PSC order. This only happens if the service member is relocated somewhere dangerous, like bases in South Korea or Turkey.
Here are some of the options you have for moving:
Military Move
A military move is when the military does the packing, transporting, and unpacking for you. This option is less stressful, as you won't have to worry about hiring a military mover. Letting the military relocate your family is a better option if you move overseas. Not to mention that the military will cover all the costs.
If you prefer the military to move you, you need to register on the Military One Source moving website. The next step is to schedule a moving date. You may be unable to choose the exact date you had in mind since the military offers specific dates that fit their timeline.
One downside to a military move is the weight limit based on the service member's rank and family size. You'll have to pay additional fees if you exceed the weight limit.
When you schedule your move, your Transportation Service Provider will choose a military mover in your area. The movers will arrive, pack your belongings, and place them in the moving truck. You'll be able to track your shipment the entire time. Once the truck arrives at your new address, the movers will unpack your household belongings and reassemble your furniture.
If the service member is away on duty and the spouse has to handle the entire moving process, a military move is the easiest way to go about PCS moving. It's also the best solution if you have children or a full-time job and you don't have time to pack up and move in a short period.
Personally Procured Move (PPM)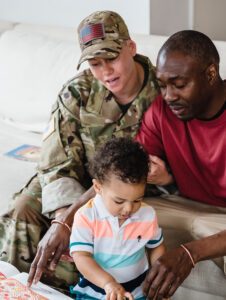 A personally procured move (PPM) is otherwise known as a "do-it-yourself move" since it's up to you to pack up your things and transport them to your new home. In other words, you'll be in charge of hiring movers, packing all of your household belongings, and planning each detail of the move.
However, you won't have to pay anything. The military will reimburse you for all the relocation fees.
Keep in mind that the reimbursement is calculated according to the weight of your household goods, not the moving expenses. More specifically, the military pays 100% of the estimated amount they would pay for a professional military relocation service. So, you can actually get some extra money from a personally procured move.
If you choose a PPM, you will still have to register on Military One Source. Moving your family and household belongings without the military's help must be approved first. A personally procured move is a better option if you don't own many belongings and can fit everything into one moving truck.
Another benefit of personally procured moving is planning the move at your own pace. You won't be required to adjust to the military's timeline. However, a personally procured move may be your only option if you get a last-minute PCS travel order.
Also, be prepared for a lot of physical work. If the military member is away, their spouse has to handle everything alone. This can be particularly challenging if the military member and their spouse have children.
Partial PPM
A partial personally procured move or a partial DIY move is a combination of a PPM move and a military move. Half of your household goods will be transported by a miliary mover, and the other half is your responsibility. The military will split your weight allowance in half if you use this option. The government will also contact a local military relocation service that will come to your house and pack up one-half of your belongings.
The Partial PPM is an excellent option because it gives you more control than a military move. You'll be able to choose which items go with you and which will be taken by the movers. This option is also much less stressful for moving military families.
Military Moving Help
Regarding moving expenses, the military will cover most of the costs. Only active members of the army who receive a PCS order are deemed eligible for allowances to help manage the whole moving process. These allowances include:
Move-in housing allowance – This covers the rent, security-related expenses, and miscellaneous fees.
MALT (Monetary Allowance in Lieu of Transportation) – This allowance is used for mileage reimbursement.
Temporary lodging allowance – In some cases, you will be required to stay in temporary housing if there are any delays or there aren't any houses available.
Dislocation allowance – This covers expenses you have during the moving process.
Per Diem travel allowance – This accounts for meals, lodging, and incidental expenses incurred while traveling to your new location.
The best thing you can do is research PCS moving costs, entitlements, and reimbursements. The Military One Source website is the best place for this information. You can read more about PCS entitlements here.
Hiring a Military Relocation Service
Whether or not you choose a personally procured move or a military move, you have the option to hire a moving company. If you want to handle the move yourself, you will need to find a moving company without the government's help. Various moving agencies give special discounts to active-duty members of the military.
You might want to hire a military relocation service for its vehicle shipping service. The military will only cover the cost of shipping one privately owned vehicle (POV). Bu ove, like storage and moving fees.
Tips for Military Moving Families
If you've just received your first PCS order or expect one, here are a few tips to keep in mind.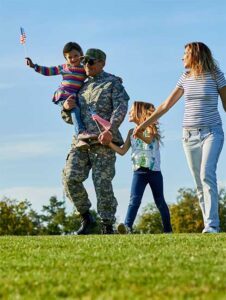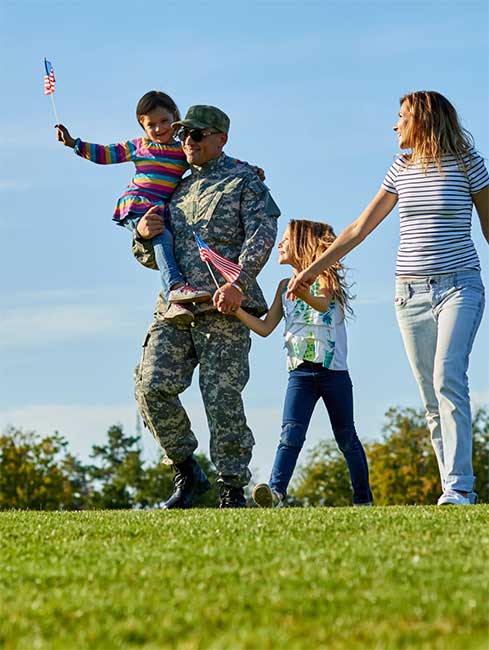 Technically speaking, you can receive a PCS order at any time. However, the "PCS season" is usually in the summer, when most PCS orders are issued. Service members and their families generally move between May and September, but the peak PCS moving time is July. Since many moving military families take action as soon as they receive their relocation orders, you should find a military mover agency as fast as possible.
One of the most important aspects of moving in the army is bringing only necessary baggage. There won't be any room for excessive belongings. When you move, the military will estimate a shipping weight based on your rank and the size of your family. To avoid paying additional fees, only bring what is necessary.
Don't pack anything by yourself if you opt for a military move. The military mover agency will be held liable if something is broken or damaged during the moving process. That's why they need to ensure nothing is broken before it's packed.
PCS moving requires a lot of financial planning. While the military covers your moving expenses, the reimbursement may not be paid immediately. To avoid any financial issues, make sure to have a PCS savings fund.
You'll also have other expenses for moving, like restocking your home, buying cleaning supplies, car maintenance, etc. If you exceed the weight limit, you might need to keep some of your belongings in storage. The military's relocation allowance won't cover these costs, so plan accordingly.
Even though it might sound excessive, it's never too early to start a new PCS fund. It's generally advised to start saving money for your next PCS relocation as soon as you arrive at the current one. After all, PCS orders often come out of the blue, and they can certainly take you by surprise.
When it's time to claim your reimbursement, make sure to have all your paperwork in order. This includes PCS travel orders and traveling fees (tickets, fare receipts, and other fees).
Make the Best of PCS Moving
Whether you've just received your first PCS order or if you've relocated to new bases multiple times, moving in the military is never an easy process. There are many things you need to take into consideration, including finding a new home, packing up all your belongings, and going through a ton of paperwork.
Even if you've covered all these steps, you still have to consider transporting your vehicle. If you're looking for reliable vehicle transportation and a military mover company, Military Movers are here for you. We strive to make the PCS transition easy and stress-free for active members of the military and their families. If you have any questions about our services or want to get a free quote, feel free to contact us.