Military families have many challenges, and one of them is a permanent change of station or PCS. Picking up everything and moving to a new home is stressful and requires detailed planning and organizing. A big part of this process is finding a full-service moving company to relocate your household.
This process is more complicated than it seems because you need to navigate your budget and find a moving company that checks all the boxes in terms of your needs. But when you know what to focus on, searching for an excellent moving van service becomes a little easier.
Permanent Change of Station (PCS) Explained
Getting "the orders" or the permanent change of station orders occurs every two to four years for military members of different ranks and duties. But those who have never gotten a PCS order before might not know the full scope of this process.
The PSC paperwork tells you where you are going, so once you have it in your hands, it's best to start planning the move. These long-term assignments can be in the Contiguous United States (CONUS) or outside the Contiguous United States (OCONUS,) including Alaska, Hawaii, and U.S. territories.
Having a copy of your PCS orders on hand during the moving process is imperative. Also, before starting the search for a full-service moving company, creating a PCS binder is advisable to coordinate the move more efficiently.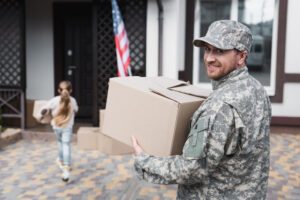 HHG vs. PPM Move
Before the move, military members get enough notice to plan their journey to the new post. But one of the first steps in this process is to choose between two types of military moves.
The first option is the household goods move or HHG, and it is ideal for those who want to avoid nearly any effort in the process. The HHG move means the Department of Defense (DOD) utilizes moving companies they've contracted with.
You don't have a say about which moving company they're using and don't have the liberty to ask about whether it is a full-service and storage type of company.
But given that these companies go through a careful process to get these contracts with the DOD, it's safe to say they offer a wide range of services. It's also important to note that the HHG move is mandatory when moving overseas or outside the continental U.S.
The personally procured move or PPM is a do-it-yourself type of move, and it's the preferred option among military members.
There are a couple of reasons why the PPM is more popular. First, the personally procured move gives you the chance to search for the moving company services that suit your needs.
Second, the military will reimburse up to 95% of the cost that the HHG full-service moving company would charge, and military members are allowed to keep the difference. Therefore, with careful planning and logistics coordination, military members can profit from the PPM relocation.
Factors to Consider When Choosing a Full-Service Moving Company
Because the HHG move is not organized by those who are moving, we're only talking about the PPM moves. Choosing this option puts the military members in charge of shopping for the best full-service moving services available to them.
The good news is that many complete moving services focus on relocating military members. But you still need to know precisely what to search for, especially if this is your first move.
GSA Approval
Perhaps one of the most reliable ways to pick the best full-service moving company is to check if it has a General Services Administration (GSA) approval.
Essentially, this certification means the company is one of the DOD partners and has a contract with the military for HHG moves.
But these companies also perform PPMs, and military members can hire them independently. For some, the GSA approval is the number one factor when choosing full-service moving services, so it's what they search for first.
Pricing
Whether you're counting on having some leftover cash from the PPM when the military reimburses you or you just want to find the most affordable solution, pricing matters.
However, the difference in cost can vary drastically, depending on the company, their services, and the size of your household. Local moves are understandably less expensive than long-distance moves, but even then, it's essential to understand the range for each type.
A local full-service moving service typically costs between $600 and $2,000, whereas long-distance moves range from $1,300 to $10,000.
But these numbers only represent what the moving company charges. You also have to consider that you'll need to cover any incidental costs and probably a deposit for the new home.
Military Discounts
If the goal is to save as much money as possible on the PPM, partnering with a moving company that offers military discounts is advisable. While some companies will advertise these discounts, others may offer them only upon inquiry.
Therefore, even if you don't see a listed discount from a moving company that you like, it's good to call up and ask if a military discount is available.
Free Quotes
There's a reason why companies that offer free quotes are more likely to snag a customer. Everyone wants to know what their move will cost upfront so that they can make an informed decision.
A full-service moving company that works with military members should offer free quotes, as that's considered the standard. If a company refuses to give you a full-service moving quote for free, it's best to move on to another candidate.
Truck Sizes
Well-established full-service moving companies typically have a fleet of vans and trucks that cater to their customers' various needs. Still, you should check what the actual offer is.
If you're moving to a one-bedroom apartment, you'll likely be good with a 10-16-foot truck size, whereas you'll probably need a 22-26-foot truck for moving a five-bedroom house. It's also imperative to check the availability of the trucks for your moving date.
State Availability
Another important step in the process of finding the best full-service moving company is to confirm to which states the company delivers.
Most major companies assist with moves in all 50 states, in addition to international moves. If the moving company doesn't ship to the state where your new post is, it should be automatically disqualified.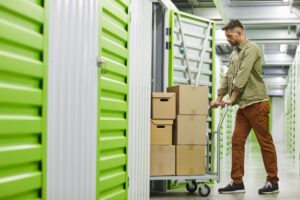 List of Services
Lastly, it's crucial to discuss specific services the moving van service offers. Package movers and cleaning are typically the standard, but it doesn't hurt to check. Here are the most important complete moving services to consider when choosing a moving company.
Packing and Unpacking
The process of packing and unpacking is one of the most exhausting parts of the PCS move. It can get overwhelming quickly, as most people can't reasonably assess how much stuff they have and how long it would take to pack it properly.
This is where full-service companies come in. Ideally, you can be as specific as you want about which packing services you require. For some military members, unpacking isn't necessary as they'd rather take their time to do it by themselves.
Custom crating is an essential service for others because they have fragile items that need special attention. Make sure to ask the moving company if you can customize the packing and unpacking services.
Vehicle Shipping
In many instances, a military member will drive their vehicle to the new residence, so car shipping isn't a service they need. However, some military households have more than one car and will not be in the position to have their spouse or another family member drive the second car.
In these situations, it's absolutely essential to find a moving company that ships vehicles. Typically, you'll have the option between a less expensive open-sided auto transport and a pricier enclosed transport. You should also have the opportunity to choose between door-to-door and regional storage facilities for car shipping.
Debris Removal
The full house cleaning of the home you're leaving is likely up to the landlords. But the tenants also need to ensure the home is free of various debris left behind during the move.
A full-service moving company should also offer debris removal, allowing military members to leave to their new post, stress-free. The company should be able to assist with the clean-up process, so it's best to arrange for this service upfront.
Storage
One of the best ways to achieve some flexibility with the PCS is to consider storage solutions. It doesn't matter if you want to store specific items before you get the orders or do so once you know where you're going; a moving company should give you some options.
If the home you're moving to is smaller than your current one, utilizing storage space prevents future headaches.
Moving Coverage
Damage to your possessions is probably the last thing anyone wants to worry about when planning a move, but they are an unfortunate reality. If you're shipping valuable items, asking about moving coverage is essential.
Keep in mind that moving companies are not allowed to sell insurance, but they do have an obligation under federal law to offer valuations.
The best moving companies offer full-value protection that includes repairs, replacements, and cash settlements equal to a specific item's market value.
However, they might refuse to offer a valuation for costly items, leaving third-party insurance as the only alternative.
Customer Service
Moving is almost always draining, even with the best moving company services available to you. Military members will likely need to talk to a move coordinator or customer service several times during the process to make sure everything goes according to plan.
Moving is already a stressful experience. However, it can be considerably easier if the moving company has helpful customer service that is always available.
On the other hand, unresponsive and unprepared customer service agents can make a move more difficult than it should be.
Additional Services
We've talked about the most significant moving services, which should be non-negotiable. But the best moving companies offer a few other perks you might want to consider.
Often, GPS tracking is included, allowing military members to know where their items are at all times. Other services that might come in handy are furniture disassembly and reassembly, handling very bulky items, appliance service, and others.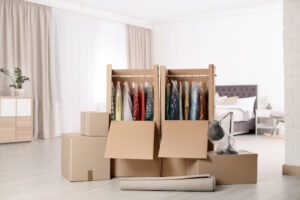 Benefits of Choosing a Moving Company That Offers PPM Services
The most significant advantage of hiring a moving company that offers specialized services for military members is their familiarity with the process.
They already know that the move is sometimes time-sensitive and that military members don't always have the precise move date until the last minute.
The best full-service moving companies have the right experience. They are ready to cater to special requirements in order to ensure the military members and their items arrive safely at their new station.
Tips on Choosing the Best Full-Service Moving Company
Organizing a PCS move might not be much fun, but it doesn't have to be a nightmare, either. Asking the right questions is a great way to learn more about the company. Make sure to ask them about the cancellation policy or if there are any hidden fees.
Also, it's probably best to avoid putting up large deposits or paying for the full move upfront. A reputable moving company won't ask for a large deposit and should expect you to pay upon delivery.
Furthermore, when it comes to valuation coverage, make sure you read the policy in detail and that it says what the company claims to offer. Don't forget about the receipts either, as you'll need them for reimbursement from the military.
Finally, don't hesitate to report a problem if one occurs. If something gets broken during the move, don't wait too long to make it known. Typically, you will have nine months to file a claim, and the moving company has 30 days to respond.
Getting to the New Station With the Help of a Reliable Moving Company
For many military members, moving frequently is just a normal part of their service. But that doesn't mean that planning and organizing the move gets any easier.
Experienced military members who choose personal procured move as their go-to option probably already know which companies are reliable and which to avoid. However, some might not even know what to look for in the first place.
The factors we've talked about are a great starting point and can help you find the best full-service moving company for your next PCS.
Reach out to Military Movers with any questions you may have and to get a full-service moving quote.